Welcome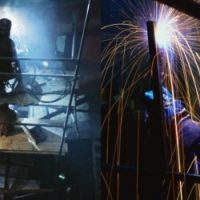 North Country Welding has been welding custom steel fabrications and steel parts for more than 30 years. We are committed to your satisfaction from the moment we get your order to the final product. Quality is our main concern; it is the cornerstone of our business.
We have gained a wealth of experience from the wide variety and intricacy of our many projects in the Jefferson County area. We have the resources and the know-how to get your welding and machining projects done right the first time. Our welders are more than qualified… they're dedicated!
On-site or on-location, we are expert at working with your production schedule and your unique needs. Whether it's a simple parts repair or a large construction project; North Country Welding is the name you need to know! Call us today at (315) 788-9718 for a free, no obligation assessment of your project.
At North Country Welding, we specialize in sanitary stainless, pipe welding, milk truck rebuilding and repairing, dairy work, mechanical piping, 8 foot rolls, catwalks and handrails, metal fabrication, 70 ton punch, plasma cutting, trailer hitches and parts, custom tube and pipe bending and pipe bollards as well as auto and floor repair.